What Is New
4/1/2018 Version 17.0 released
R-Tag Viewer and Scheduler
- Added support for Active Directory. You can add Active Directory groups to R-Tag roles and use Active directory users instead of creating R-Tag users.

- Added support for email Distribution groups. Define groups of users, emails and Active directory groups and use them to send emails. For example create a distribution group Senior Management and set multiple scheduled jobs to send emails to this group. When a new manager is added to the team just add the contact info to the Senior Management distribution group and the manager will start receiving all important reports

- Added export to E-book (extension EPUB) and Open Document Format (extension ODT)

- Added "watch folder". When a password protected file with report / job settings and parameters is saved in this folder R-Tag scheduler will use the data and run the report / job. This is useful when it is necessary to run reports from custom applications. This is added as an alternative of using command prompt parameters. The command prompt approach has security issues since it is easy to tamper and to run reports without permissions. It also may cause memory and concurency issues since for each report the custom application will start a separate copy of the reporting software.

- New Query editor to allow creating queries for Advanced dashboards using visual interface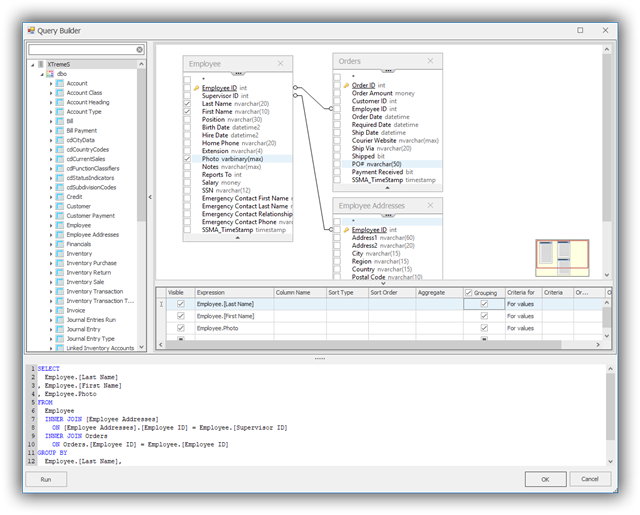 - Added central connection management and connection types. Now it is possible to save and reuse partial connection.

- Improved scheduler service using the calendar interface. Better support for multi-threading.

- Scheduler filter to show/hide task fore some jobs.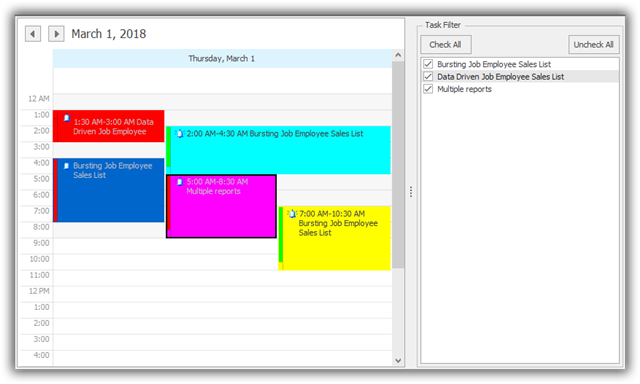 - New scheduler service for short period tasks to avoid flooding the calendar with per second and per minute tasks.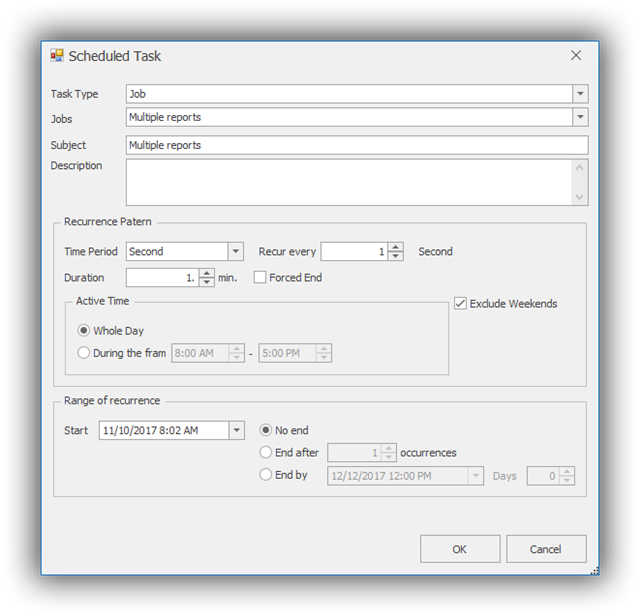 - New export options for PDF files allowing to set document and signature properties.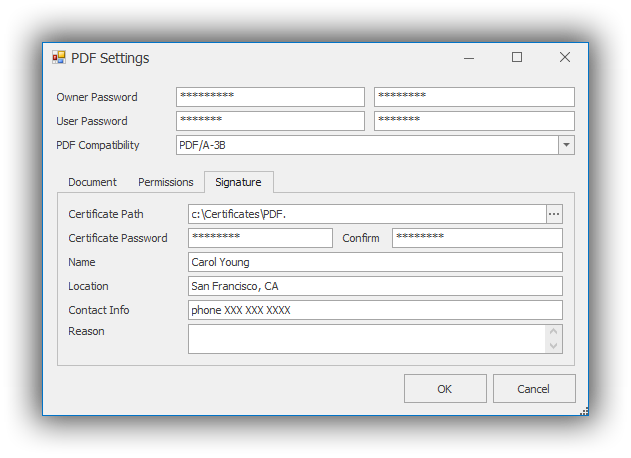 - New export options for Excel files allowing to set columns auto fit, max size, page size, header, footer, document security, insert data inside a template etc.

R-Tag Documentation and Search
- Added a new task type for R-Tag Scheduler to automate refreshing reports' metadata.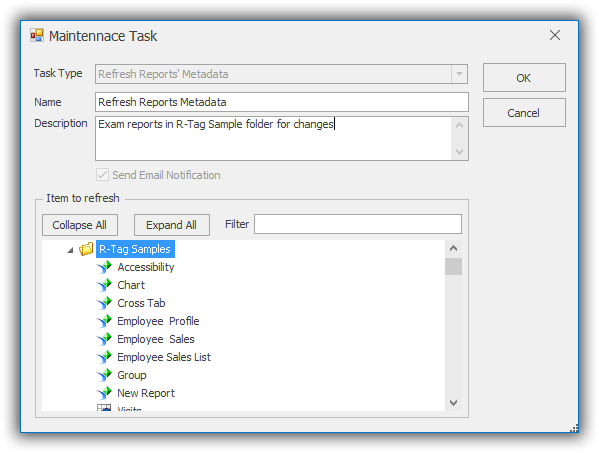 - Generate reports SQL even without access to the report database.

- New formatting options for reports' and subreports' SQLs.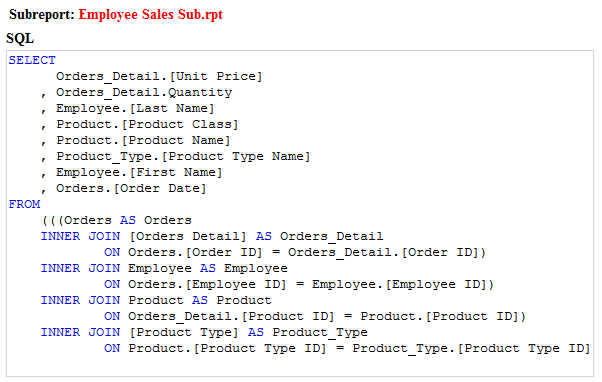 - New formatting options for reports' formulas.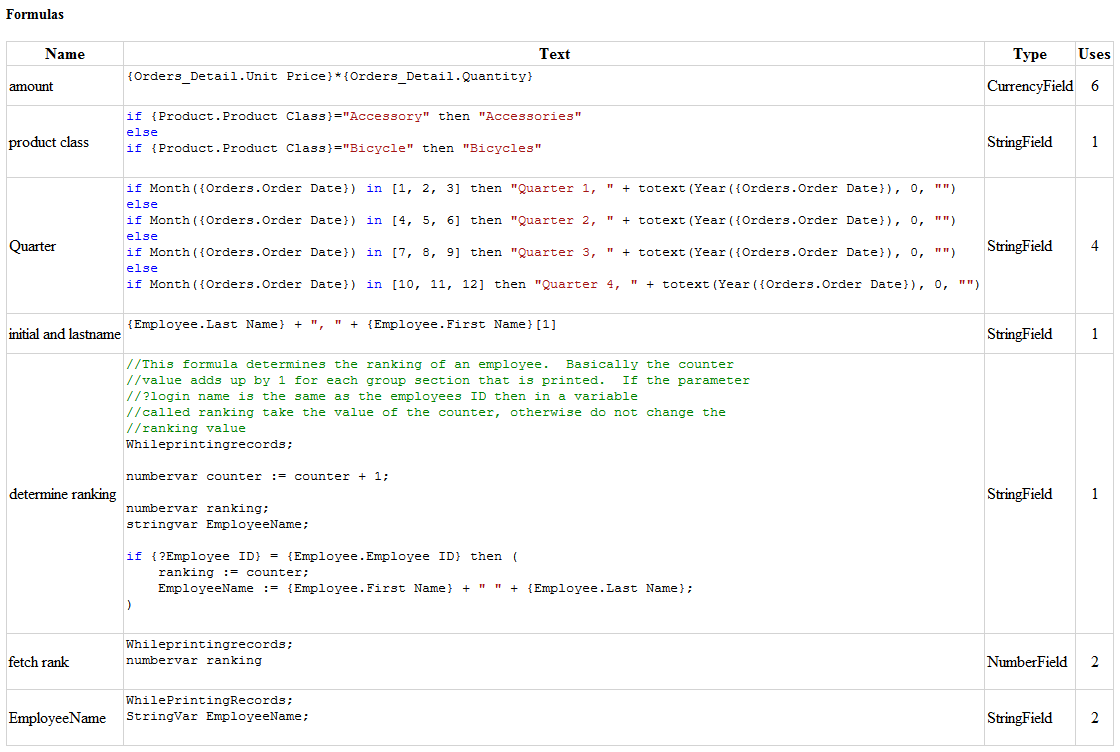 R-Tag Version Control
- New engine to compare reports' versions approx 100 times faster than the previous one. A sample comparisson , which was taking 4 seconds with the old engine took 28 miliseconds with the new engine.
- Find report similarities. Thanks to the new faster compare engine it is possible to run comparisson for similarities. You can find all reports in a folder and the percentage of similarity to a current report in just few secconds.

6/21/2017 Version 16.1 released
- Bug fixes
- Changes in R-Tag Version control and R-Tag Documentation and Search to improve Search performance
- Removing all dependencies to external applications (Git, SVN etc.) No need to install and configure external repositories
- Release of new website: www.r-tagsoftware.com.

4/17/2017 Version 16.0 released
- Performance updates for export to Excel and scheduled tasks processing.
- Adding multiple login options for Crystal reports server and BOE.
- Bug fixes
- Applying changes to R-Tag Crystal reports assemblies to allow R-Tag to work on a terminal server without Crystal reports license.

9/14/2016 Version 15.0 released
- Scheduler service detects dependencies by other services and waits until they are started on computer restart . In case of database connection drop the service will check continuously for connection and will try to refresh the data as soon as connection is restored. Email will be send in case of connection or issue at service start.

- Catalog. New system to assign additional information to reports: tasks, owners, statuses, tags, description , summary
1. Ticketing system. Create tasks, assign them to reports and developers, set start date, estimate and due date. Allows developers to save time spent on each tasks, set task status, add notes, emails and documents to internal document management an associate them with the task. This system is linked to R-Tag Version Control for Crystal Reports and allows to link development tasks with internal report changes.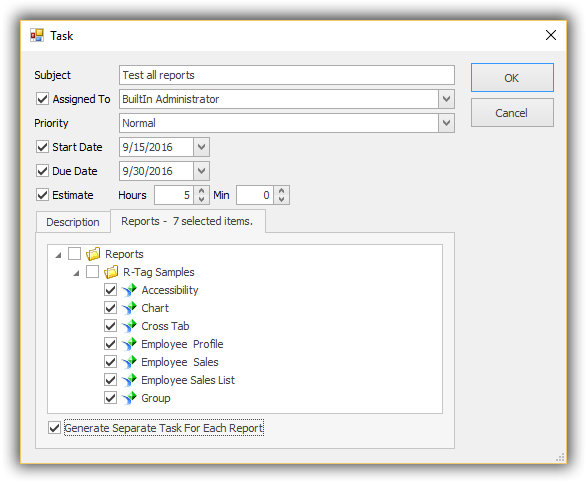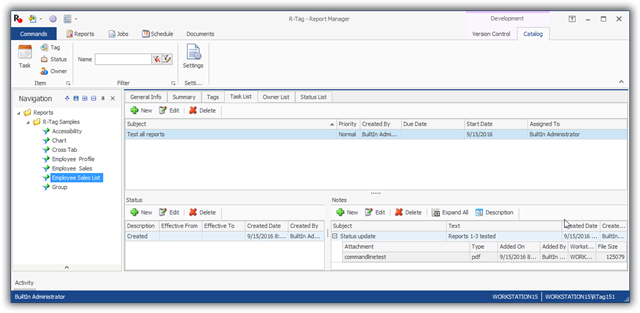 2. Report tags system. Create your own tags and assign them to reports , search and filter reports by tags.

- Advanced settings for PDF and Excel files. New option for custom file extension.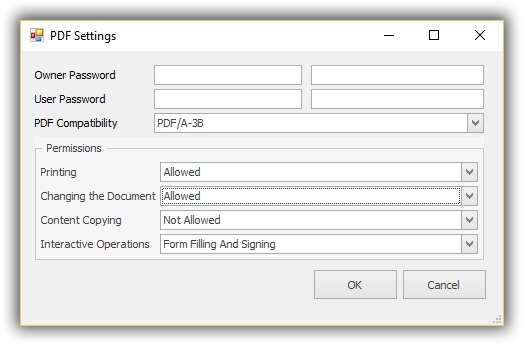 - New dynamic values dropdown. Blue dot marker is replaced with a regular button. This resolves the problem with occasional hanging on slow systems. Dropdown is resizable.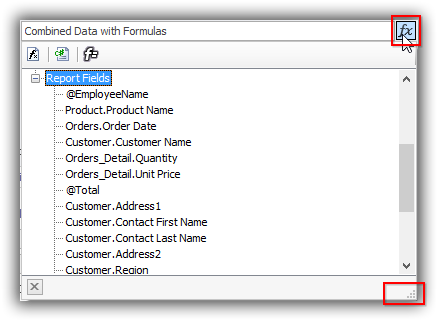 - Relative dates support first day, last day, days from the beginning, days before the end.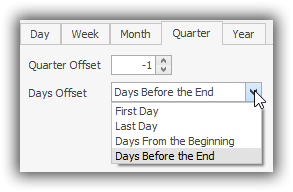 - Support for quarters in relative dates. Here is how to set 3 days before the end of the previous quarter.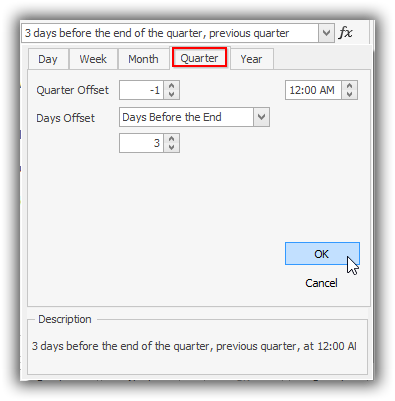 - Added Report description tooltip allowing to show quickly additional information.